Faultfinding II
John Haber
in New York City
Christina McPhee's Digital Landscape
Sol LeWitt, Kysa Johnson, and Casey Reas
In the first half of this essay, I imagined a viewer questioning the data and, from that beginning, the processes underlying a digital work. From The Carrizo-Parkfield Diaries by Christina McPhee, I turned to the reliability of rule-driven representations in chalk and other traditional media, by Sol LeWitt and Kysa Johnson. Now the story goes digital.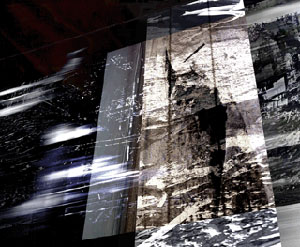 Like LeWitt, Casey Reas foregrounds drawing by rules. Like Johnson, however, he envisions emergent structures that could serve as models of the natural world. I can then return to McPhee's work, to discover how close the mapping impulse takes one to an incursion on the human body.
Minimalism on steroids
LeWitt has long relied on assistants. But what if he had started with a laptop? If a handful of human beings could create all those lines and curves, just imagine what enough DDR-RAM could do.
With Reas, one may finally find out. His most recent work, in fact, grew out of a project commissioned by the Whitney in conjunction with LeWitt wall drawings. I did not know that when I first saw the show, but I made the connection easily. Reas describes what he does as "process/drawing," but one might equally call it Minimalism on steroids. Surprisingly, one can also almost call it life.
The connections are hard to avoid. Both programmers and Minimalism often speak of algorithms. When Donald Judd termed his work "one thing after another," he could have been describing a machine. Certainly for LeWitt the work has always included both process and drawing, concept and execution alike, and Reas's titles alone sound like quotes from the older artist, only again intensified by digital processing. Take Process 4: A rectangular surface filled with varying sizes of Element 1. Draw a line from the centers of two Elements when they are touching. Set the value of each line so the shortest line is black and the longest line is white, with varying grays between. No doubt Judd would know when to shut up.
Yet the works have something else in common with Minimalism, too. The movement, as with LeWitt, managed to revere both the found object and the handmade, both rigor and chaos, both the given and chance. It aspired at times to encompass not just the history of technology, but also of nature and the Earth, and, again, LeWitt's drawings may look quite sensual. As Reas's ultrafine lines proliferate, one could easily mistake them for crystals or for organic forms. They have something in common with Johnson's drawings based on yeast. Then again, the most famous mathematical game of all time goes by the name Life.
As this suggests, Reas runs the danger of producing little more than a game, and indeed sometimes he does. Cory Arcangel can at least claim to hack his models of digital media. No wonder that, when Reas turns away from the monitor, the results seem more inert. I found that the drawings based on—or, for all I know, produced by—the software work least well. Especially when they venture into color, I miss the outstanding tonal range generated on screen in black, white, and gray.
Still, I took pleasure in changes unfolding faster than perception. I enjoyed the implied reversal of Minimalism, which in its own videos sometimes strove to slow down to a scale of hours rather than megahertz. Similarly, in its execution, Minimalism aspired to the scale of entire walls and, with earthworks, even mountains, rather than of LCDs. I liked the heightened interplay of title and work, which sit easily side by side on the scale of a monitor and wall display. I got to puzzle over whether to call the computer an intermediary between the artist and the work. I could smile at my own illusion of seeing into the nature of life.
Hiding the machinery
As Reas shows, digital art adds unprecedented speed and accuracy of execution, although I bet LeWitt's assistants crash less often and develop fewer bugs. It adds closer touch to many terms of the viewer's day-to-day experience, much as genre painting once did. Many consumers of art feel more at home with a mouse than with a brush—something that Daniel Rozin exploited by daring gallery-goers to paint with life-size but electronic brushes. They recognize the patterns that they themselves may use to decipher reality and to communicate with others. Interactive art can bring closer touch with the viewer still.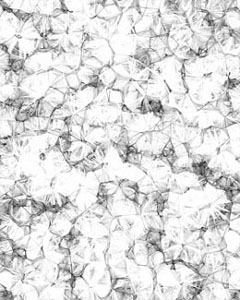 However, that promise of perfection and complexity comes at the expense of hiding the machinery. The viewer cannot, even in principle, verify Reas's title. The computer also adds an element not yet in Reas's work. It can process reams of data not otherwise available to the artist. I am back at last to where I began. McPhee can work not just with rules, concepts, and images available to sight, from memory, or in photographic prints—but with any signs she chooses. And McPhee, too, really could lie in the interest of self-exposure.
More to the point, because the input comes from an existing physical model, rather than solely from the artist, the disjunction between the metaphor that goes in and the metaphor that comes out becomes more apparent. Not even the most innocent eye can see the landscape of The Diaries as a window onto nature. I do not question that science and art serve as fully adequate models of phenomena, even if their intersection has a way of disturbing both. I mean that the data themselves do not have a natural, phenomenological relationship to landscape. They, too, arise in context of a methodology, model, or metaphor.
In other word, digital art does not eradicate or naturalize representation—a kind of art as natural history. Rather, it has the potential for making representation an even more vital part of the work than ever before, as well as an extension of the artist's self-representation. In The Language of New Media, Lev Manovich sees database-driven art as intrinsically nonlinear, owing to a computer's random access, its ability to read and write data anywhere in a file rather than sequentially. He contrasts this with narrative, and he asks provocatively for art that will include both. But that art is everywhere. An artist cannot access a database or give it compelling visual form without a concatenation of metaphor in the first place.
The Diaries build on three layers, every one visual and every one a model of the world. McPhee starts with landscape data and produces a picture landscape, mediated by processes of chance on the one hand and by her intervention as an abstract painter on the other. She does not dismiss images from her imagination but disperses them. The ultimate representation extends her body, lies as flat as an actual landscape, and bears traces like both. She accentuates the crossing of media further by blacks that take on the coolness of a photographic negative. She speaks of "a screen so vast it becomes a night city."
Recall her description of "selective crashing of online live data against archived data." Manovich identifies the syntax of digital art with the computer's file structure, much as Noam Chomsky sees innate syntactic structures in human language. However, the word crashing slips in its referent between the Earth's plates and components of the artist's thought processes. It encompasses the machine's internal processing of data, the collisions of online images with the viewer's perceptual field, all too real dangers to people from natural hazards and incompetent planning, and unarticulated terrors evoked by the work of art.
Old habits and new media
Once one enters the digital landscape, it is not so easy to escape, no more than from the landscape of a book. Had you noticed that this review itself draws you into a hyperbook? Not surprisingly, digital artists have turned to ecosystem data for years now. Only the Dow stock ticker, as in the work of Lynn Hershman, comes even close to the appeal of planet Earth. Not even art's dependence on money can displace the dream of recreated worlds.
As far back as 1994, ART+COM's TerraVision layered data plots of temperature, cloud cover, and demographics. With EARTH in 2001, John Klima drew on Landsat 3D visualizations. Ken Goldberg's Mori even incorporated a 1999 seismograph of the Hayward fault. Charlotte Davis's virtual world has topographic aspects and the illusion of trees. These works range from simple graphs to attempts, as Goldberg has it, to "transform the Earth into a living medium."
I suspect that their variable success as art rather than as science projects relates closely to how well they fulfill Manovich's demand for more conscious syntactic and and symbolic structures. Does the Dow really make Hershman's figure dance? That assumption affects one's understanding, but only to the perhaps limited extent that it puts to test the reality of art as commerce—and thus the creation of the work itself. Too often, I think, digital art stops right where the test should begin. Too often, the art's proponents and creators forget something: a connection between the finished image and the original data does not flow naturally.
Why has digital art had a hard time shaking the illusion of a naturalism? First, it adds the authority of science to the traditional aura surrounding art—with John F. Simon, Jr., using explicit references at once to computer-aided design and modern "masters." Old habits die hard, especially if the U.S. Geological Service and a pack of computer geeks come to their rescue. Second, digital art has a fascination with "virtual reality" and computer simulation. Besides landscape, new media often incorporate virtual cities and virtual architecture, in no small part because real architects use computers to create models. Even when sophisticated users acknowledge the virtual, they may believe that all reality is virtual anyway, one more episode of The Matrix.
The puzzle of defining new media contributes to these habits. A formalist or practitioner alike may want digital art to exemplify its nature as a medium, a medium reliant on information. A traditionalist may want to place digital art in context of art movements, including the brute physical presence of performance art, sound art, and machine-based interactive art. A member of the digital community may see new media as community structures. These analyses all have real utility, but they can easily overlook a further multiplicity of genealogies, in ties to existing media. They can also lead one to neglect digital works that revel in their connection to film or painting—like the work with which I began.
Finally, data structures perpetuate a myth that has traditionally naturalized art forms, the myth of the trace. Many people still think of representation as the tracing on canvas of light or geometry, perhaps mediated by a camera obscura, a lens, or a mirror. Barbara Savedoff argues for a near-universal belief in photography, based on its arising as an unmediated trace, like a mask modeled directly on a face. A database naturally makes the same claim to raw data, and the hiding of its machinery may seem to reinforce claims to an absence of mediation. Ironically, Savedoff suspects that the computer is eroding habits of belief, now that everything goes through Photoshop, even John Kerry and Jane Fonda. At the same time, however, the translation of data structures into visual models can serve as the last redoubt of the myth of the given.
The body in question
Every trace attests to an absence, the presence that left its impression in memory, the mark of what one exhibition has called "Remote Viewing." Database-driven art, too, attests to dissociation and loss. Like a mask, it becomes a repository of signs unmoored from their source, now in the disorienting setting of a flat panel and a hidden central processor. Like documentary photography, it can numb by sheer repetition, now at a lightning pace. Like painting, it promises a higher reality, but now in the virtual space of science-fiction scenarios. Like all of these, it creates an architecture of the past, even when it most claims to authenticate the present.
I have discussed The Diaries as recreation of a landscape, as a layering of metaphors, and as care to create resonance and disjunctions between the layers. I noted an opening of boundaries as itself a metaphor for self-exposure, a flattening and distorting of the artist's body on the bleak space of a video screen. I have mentioned Hal Foster's attention to Surrealist prosthetic and superhuman body parts, as in the work of Pierre Molinier, and McPhee has herself used the metaphor of the cyborg. One should also not forget a long history of identification in art between woman and landscape, as in the work of Ana Mendieta. However, the work also sustains that awareness of loss inherent in a record of archival traces.
The work's subject comes down to physical damage to the Earth, and its tremors serve as metaphors for psychic shocks. McPhee brings the same attention to devastation along the California coastline in her digital prints entitled La Conchita Mon Amour. She says that she imagines the landscape as both architecture and somehow "live and breathing," what she calls a "psychic architecture." The work loops back again and again—from landscape to data, from data to representation, and from representation to landscape. Like memory, it enacts a return to what the mind alone cannot fully recover. If this sounds like a detective story after all, a related video and performance work gives an earthquake the appearance of a criminal act.
Salt opens with real quake damage, in which two women lost their lives—damage centered on the Carrizo plain, which happens to begin at salty Soda Lake. However, the empty lots and the strands of police tape, the figure bent as if in a search for the evidence, and heads poised as if for a press conference testify to the conventions of crime-scene investigation. The denatured color of outdoor digital photography also relates to televised drama. As the body in question turns up, the montage of artificial lights, underscored by chilly, repetitive piano music, takes on ghostly echoes of film noir.
Of course, the body in question is a woman's—presumably the artist's. An erotic and elusive image of woman's hair serves as a transition from the earthquake's daylight robbery to the night shades of McPhee's abstract painting. The text refers to "traces of her presence in fleeting gestures and in spaces that extend beyond the browser, as if there is a screen so vast it becomes a night city." A Californian, McPhee also finds beauty in the landscape's desert grasses, "reaching toward heaven," perhaps even after an aftershock and as the promise of recovery. The transparency of the woman's hair to the empty scenery identifies her with the cracked landscape, like Lot's wife reduced to a pillar of salt.
The authority of the police tape functions as the promise of a return to normality and an extension of the constricting force that can reduce a woman to an object of desire. The quake awakens that desire, but as traumatic memory. The video gets a little free mileage from leaving the subject of desire and the nature of the memory unspoken, but I felt them nonetheless. And naturally the video perpetually loops and starts again. Salt traps one in the present the moment one looks back.

This is the second part of a two-part essay. Christina McPhee presented her recent work at Transport Gallery in Los Angeles through April 16, 2005, at Rx gallery in San Francisco through June 8, 2005, in a March talk at the Parsons Design Lab, and on the Web. A related interview quoted here, "1000 Days of Theory: Slipstreaming the Cyborg," appeared May 6 on ctheory.net. Casey Reas exhibited at Bitforms through April 2. An excerpt from The Language of Digital Art (2001), by Lev Manovich, on "The Database" also appears in Theory in Contemporary Art since 1985 (2004), edited by Zoya Kocur and Simon Leung. I refer to Hal Foster's latest book, Prosthetic Gods (October Books, 2004). I give extended space elsewhere to Christina McPhee's digital prints.